MVO Teaching Projects

The Volunteer Project
Malawi is one of the poorest countries in the world, with over half of the population living below the poverty line and an average daily income of less than 60 US Cents. The majority of Malawi's population lives in rural areas and is provided with free education, but this is of a very poor standard. Many of the children do not fit into the classrooms, due to the large numbers and those that can, sit on the floors and receive instruction from just one teacher. Therefore, they do not receive any vital one-to-one attention. Those with learning difficulties often get left behind and may even find themselves years below their fellow classmates.
Most children start formal education at primary school at the age of six. The primary education takes 8 years, from Standard 1 to 8, at the end of which pupils write the Primary School Leaving Certificate examinations. Students have to pass and get selected if they are to attend secondary school education in a government secondary school. There are often mixed ages in each standard and you may find children of a secondary school age learning in the primary school, as they may have started schooling late, or been held back a year.
Our Teaching Project is based in the Monkey Bay area at the southern end of Lake Malawi. There are a number of rural schools in this area that are seriously under-funded and do not have the resources, or sufficient teachers for the large number of children that attend each school. At the schools we are working with there is a ratio of between 150 and 200 students to each permanent teacher - so these schools really need your support!
Location
: Near Monkey Bay on the shores of Lake Malawi
Note
: you must be at least 17 Years of Age to participate in these projects.
At this community volunteer project you will be teaching at one of the two rural primary schools that we have identified to work with initially. The introduction of free primary education in Malawi has seen a large increase in the number of pupils going to primary school, but this increase in access has also brought major infrastructure problems and a big decline in quality. There are many other schools in the nearby area that are also in desperate need of support from volunteers and which we will also be working with in the future as the project grows.
---
Your Role as a Volunteer
The official Language in Malawi is English, but it remains a second language for most students - however the first or home language of most students is
Chichewa.


▒ Click here to learn more about the Chichewa language ▒
You will be working in one or both of the local schools, teaching the core subjects to the children of different ages and levels. Although there are members of staff in the classroom, it is desirable that these classes of up to 200 students are divided amongst yourself and your fellow volunteers and taken elsewhere to provide closer one-to-one interaction and study assistance. This can only be allowed if you are a qualified teacher.
The subjects that you may teach include:
English
Mathematics
The Sciences – Biology, Physics and Chemistry
Creative arts
Sports
Health education and HIV/AIDS awareness
Schools typically start at around 07.30am, with Standards 1 and 2 finishing at about 10.40am, Standards 3 and 4 at about 12.00 and Standards 5 to 8 at about 13.15pm
---
Extra-curricular activities
In the afternoon, after your school teaching session and well-deserved lunch break is done, you will be involved in extra-curricular activities with the children.
Starting at about 2:00pm and finishing around 5.00pm, you will be involved in teaching and playing the various sports that are offered at the schools with the children. Football (Soccer) is by far the most popular sport in Malawi, as in much of Africa and netball is also played by many of the girls; with the schools having teams for both sports. Other sports, such as volleyball, rounders and badminton are also offered on an informal basis, due to a lack of equipment and knowledge of these sports.
The schools also runs informal HIV/AIDS awareness groups and sexual education projects, though these need much further development and structure through your volunteer assistance. You can help the students to express their views through debates and forums, provide educational materials and sessions, whilst also creating fun and educational activities such as encouraging students to write songs, perform short plays and poems and create posters and flyers to try and raise awareness and the understanding about HIV/AIDS within the school and the wider community.
This type of workshop development is applied to wildlife and conservation clubs, where pupils learn about conservation and how to preserve and protect the wildlife of Malawi. This occasionally includes educational visits to National Parks and game reserves where the children gain an insight into the importance of Malawi's natural areas, though this work could certainly be instigated and further developed by you.
There is also a First Aid and nutrition group that aims to promote healthy diets, exercise and basic first aid for all pupils. The group has a very limited First Aid Kit to treat minor ailments, sporting injuries etc and few understand the way that our bodies work and how to keep them healthy – help develop a regular workshop at the school to encourage children to be proactive in caring for themselves and also for their families to educate towards a healthier community.
---
School Holidays
In Malawi there are three school terms each year, the dates of which vary each year and are often not confirmed until the last minute. As a general guideline the terms are as follows:
First term: Mid-January to Mid-April
Second term: Early May to the end of July.
Third term: Late August to Mid-November
During the school vacations there is still a need for volunteers, as you may help out with organised holiday classes and activities for the children with the objective of keeping them off the streets and out of trouble. You may coach sports to local teams, teach art and music and spend your time interacting with the children. There is much less structure to these activities and you should expect to be more creative and motivated to implement your own ideas with the children each day and ensure that they come back each day to work with you.
Please Note
: Schools in Africa are very different to the western standards that you are familiar with. There is little structure and time is certainly not a priority. Corporal punishment is not illegal in Malawi schools. You will have to use your own training & initiative to get the children involved and motivated as much as possible, particularly in extra-curricular activities. Many of the schools are seriously under-funded and therefore any donations that you can raise (including schooling materials) that you could take with you to Malawi would be extremely useful; as you could then buy practical materials and tools for the project to help with lessons and activities in which you will be involved.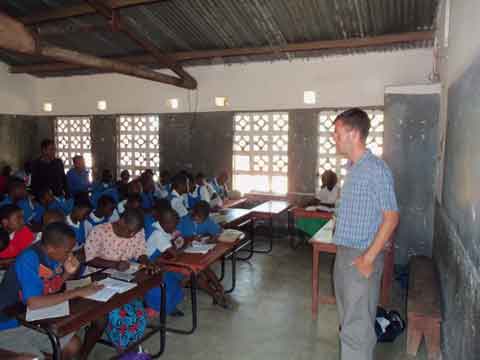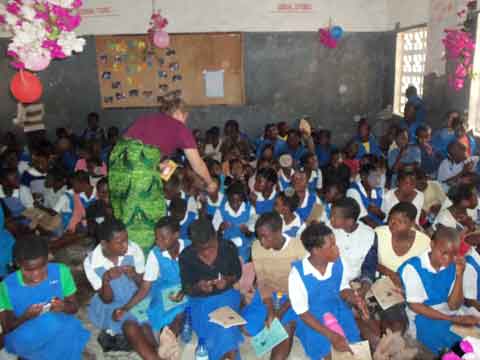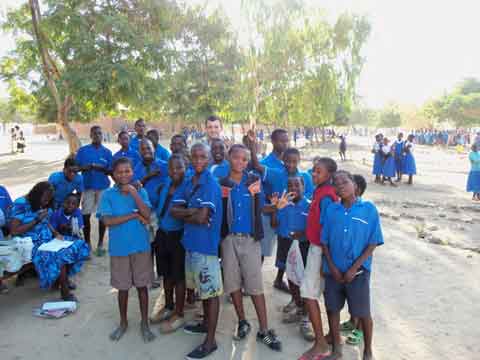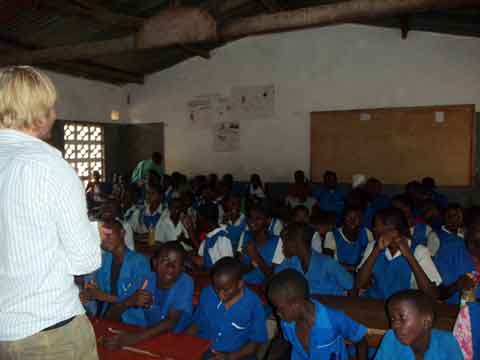 ---