One Volunteer One Homestead

Malawi is one of the poorest countries in the world, with over half of the population living below the poverty line and an average daily income of less than 60 US Cents. The majority of Malawi's population lives in rural areas and only 11% of Malawians have access to electricity. Lighting is provided by means of candles and paraffin/kerosene lamps. Not only are these means of lighting the home expensive, it also poses a very real risk to the health of the family, due to the inhalation of sooty emissions.
Epidemiologic studies
have linked household kerosene use to impaired lung function, asthma, cancer, and increased susceptibility to infectious diseases such as tuberculosi There is also the very real risk of fire from knocked over candles and lamps. The light provided by candles and lamps is not of a good quality or strength and brightness.
This project is particularly suited to short term volunteers wanting to maximise their real impact for many years after their visit to Malawi. It does require some additional cost, For the Solar Lighting Power Kit and other related expences, so you may want to consider a bit of fund raising before your visit.
Location:
Namakoma and surrounding villages right outside the Volunteer House on the shores of Lake Malawi, near the town of Monkey Bay.
---
Part A/ Homestead Solar Kit Installations
The primary task of this project is to install a solar lighting system in an identified homestead, located in the Namakoma village just outside the Volunteer House. You will be assisted in the installation by an experienced MVO staff member and the project does not require the volunteer to have any specific skills or licensing - although it may help if you know how to use a hammer or a screwdriver

corn cob
lights (see the photo) with light shades and 1 x 3W study desk lamp as well as a charging outlet for USB devices such as cell (mobile) phones, 12v radio's etc. The system to be installed is extremely robust and includes a 12 Amp/Hr Lead Crystal battery that will last up to 10 years. A fully charged battery should provide power to run LED lights for up to 12 Hours. Read more about the benefits of 'Off Grid Solar Power'
here.
---


THE REMAINDER OF THIS PAGE IS UNDER CONSTRUCTION

Part B/ Homestead Malaria Prevention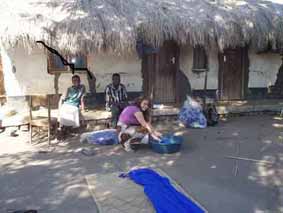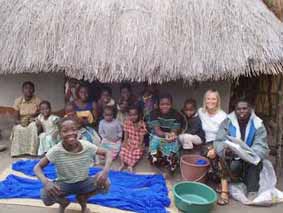 Every Malawian resident lives in a region of high malaria transmission, defined as greater than one case per 1,000 residents. In 2008, in a country with a population just under 14 million, the World Health Organization reported there were an estimated 5 million cases of malaria illness. Illnesses classified as malaria represent one half of all outpatient consultations that occur in the country.
As part of the 'One Volunteer One Homestead' project you will be asked to assess and assist the homestead for anti-malaria interventions such as supply, repair and (insecticide) treating of bed nets as well as indoor residual spraying in the homestead. Volunteers may also be asked to collect Malaria related statistics from residents in the local community for the World Health Organisation & the Malawian Government.
?? - maybe add this link... see more at https://www.ncbi.nlm.nih.gov/pmc/articles/PMC3681411/
Duis illum accusata sea ea, quo unum dicant reformidans eu. Sea ex aperiam intellegat, eam ea aeque democritum, eam habeo ridens iriure ad. Ius wisi liber no. Ne quo alienum legendos. Cum ex viris mentitum. Vis cu fierent suavitate gubergren. Pro ut iudicabit argumentum philosophia, an ius exerci quidam assueverit, ei est meliore fierent. In his ludus mandamus maluisset, quot tincidunt ius ut. Te regione volutpat periculis qui. Omnium abhorreant an pri, mea ne legere vocent principes, case ipsum lobortis sit no.
---
Part C/ Homestead Vegetable Gardening
Additionally, you will also prepare and plant (in season) a small vegetable garden for your allocated homestead, if space is available. XXX sustainable XXX
In Malawi, over 6 million people need food aid because severe weather has made growing corn crops difficult. But small home gardens are helping.
Vis brute regione ea, nam tollit vocent argumentum te. His illud urbanitas ullamcorper ei, modo stet tibique at cum. Mei soleat discere cotidieque te, cu his alii veritus omittam, mel referrentur mediocritatem in. Sanctus intellegat ea nam. Duo facer ornatus propriae ex. Cum vide nominavi ut. Eos alia sanctus admodum te, ludus conclusionemque id mel.
Cu duo nobis lucilius, ei inani apeirian omittantur his. Vim ad vitae sanctus accommodare, ex nobis praesent has. Vix et fastidii percipitur. Detracto singulis convenire cu eos, erat probo sonet cum cu. Ex nam electram principes. Simul tempor omittam no sed, vis an aliquam interpretaris. Postea dolorem admodum ut sea, est te eros mutat oportere, nec libris nostrud ea. Vero modus qui in, ut phaedrum vituperata constituam sed, an oratio.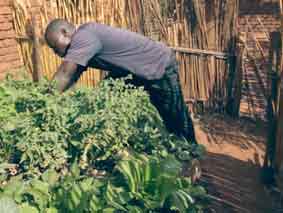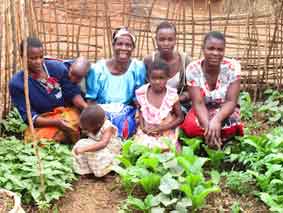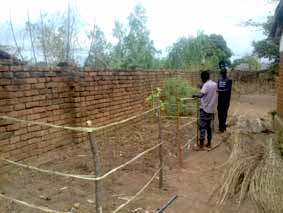 ---
Additional Project Contribution
We encourage short term volunteers to stay in contact with their homestead families beyond their short stay in Malawi.
The additional project cost for short stay volunteers on this project is US$ 400 due to the equipment and materials that need to be purchased for the homestead, but you will be leaving a lasting legacy !!
Consider expanding your budget and to adopt more than one homestead. Try some funraising at home before your visit to suplement your own funds for this Project.